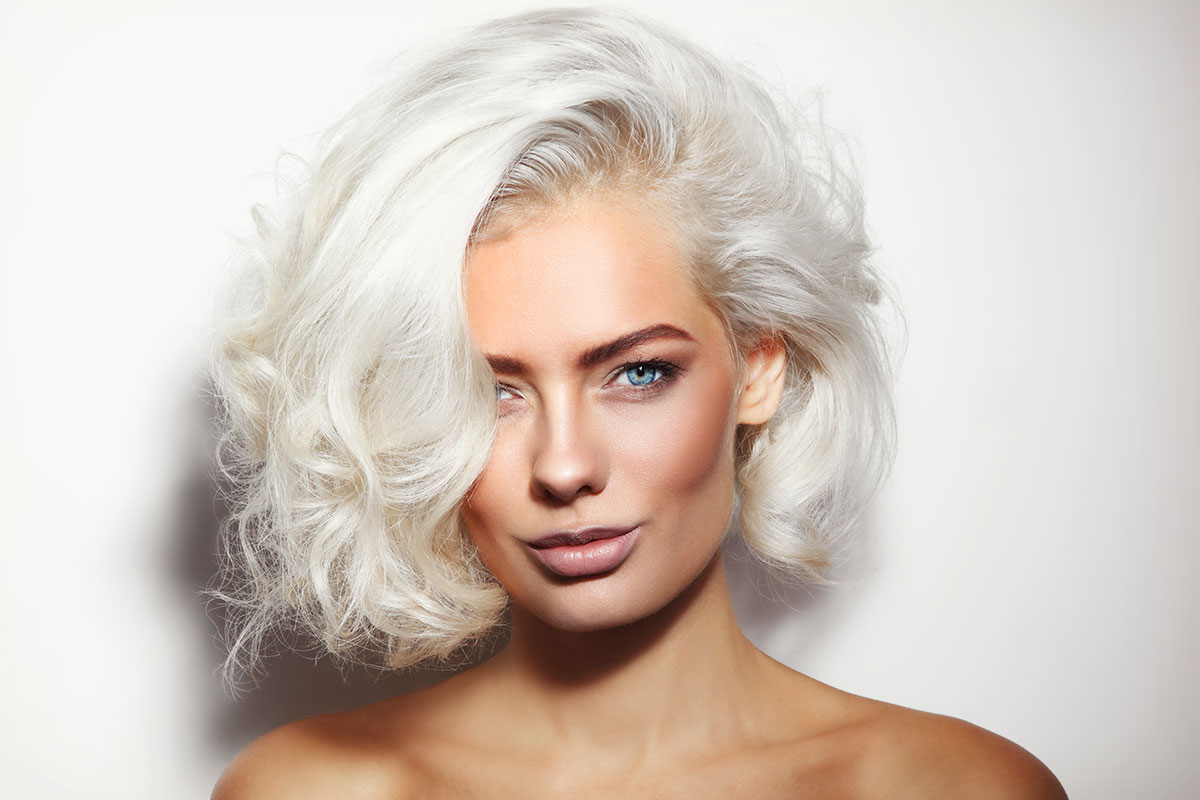 Platinum, white or "Icy Blonde" hair was a big hit during the spring and summer seasons of 2019. According to several style and beauty experts, it is forecasted to continue through the warmer months. Lighter shades require double process dyeing jobs and much more. Therefore, it should be treated carefully. Are you ready for the commitment? Check out our tips for snowy tresses below.
Consult with Your Hair Stylist
It's important to asses the current status of your hair, and no one understands your strands better than your colorist. The healthier your hair, the better. Are your ends trimmed? Can it stand the bleach? If your hairstylist advises against the color, trust them. Find out what steps you can take to increase your hair health and follow them carefully.  Trust the process.
Please Do Not Try This at Home
At home and do it yourself hair kits seem easy, but they come with substantial risks. Yes, home dyes are cheaper but are they worth it? The answer is likely, "No!"  Overlapping dyes and hair treatments can cause significant damage to your hair. We suggest you avoid the loss of hair and damage to your skin or scalp by seeing one of our blonde specialists at either of our two Salt Lake City Locations. May we recommend Abi McEntire, Cassie DeYoung, or Skylar Swenson at our Marmalde location, or Jade McCoy, Harley Morrison or Ginger Hansen at our Sugarhouse location.
Wash Less
Get used to washing your hair sparingly by starting before your appointment. You can do this by slowly spreading out washes by using our Shampure Dry Shampoo to help absorb excess oil and our Heat Relief to add extra thermal protection and a light fresh aroma. Also, invest in products that will help maintain and repair your hair like our Damage Remedy Shampoo and Conditioner. Drug store shampoos and conditioners often contain harsh sulfates that strip your hair and decrease the life of your beautiful color.
Shedding Happens
Look forward to shedding some strands, even if you take great care of your hair. To prevent breakage and extra fallout, invest in silk pillowcases and use products that prevent breakage. Damage Remedy Daily Hair Repair is the perfect match! Organically derived quinoa protein helps instantly repair damaged hair by 26%!
Keep it Cool
Avoid the flat iron and limit your blow-drying. The heat will make your hair weak, prone to breakage and brittle. If you must blow-dry your head of hair, use a hair mask once a week for a boost of nourishment and use products that will help prevent additional damage from heat styling and brushing. Damage Remedy Daily Hair Repair is formulated with a Wheat protein that helps protect the hair from heat styling up to 450 degrees.
Follow-Up
The client-stylist relationship doesn't end after your initial coloring appointment. If you're looking for a full head of platinum, we recommend touching up your roots every four to six weeks, depending on how quickly your hair grows to keep your color look fresh and prevent banding. Be sure to visit your stylist every four to eight weeks for a regular trim and Botanical Therapy Treatment to keep your ends healthy and prevent breakage.
Our trained stylists and natural products at Landis Lifestyle Salon will help you achieve your look and enhance your natural beauty. Visit us at one of our two locations in Salt Lake City for your cuts, colors, and other spa needs.